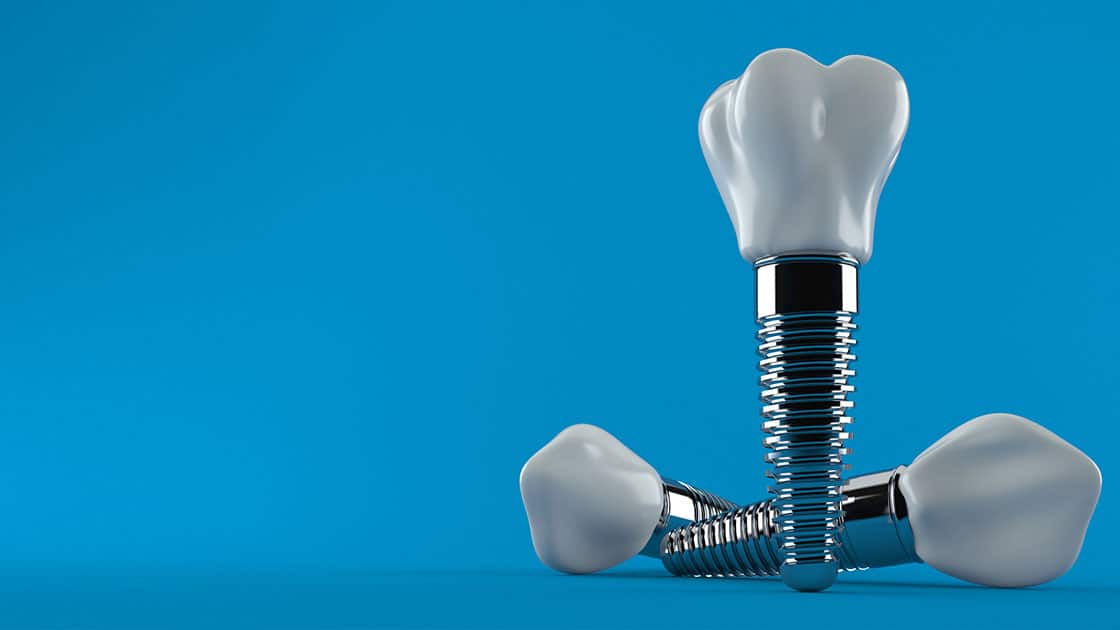 Truth and Laughter Dentistry provides dental implants in Midtown NYC. Call
212-751-6428
to learn more and schedule an appointment.
What Are Dental Implants?
Replacing missing teeth, whether one or many, can be done beautifully with dental implants. Once a tooth is lost, whether naturally or due to extraction, you never want to leave the space open or it can lead to future oral health concerns. Investing in dental implants will give you the appearance and functionality you are seeking. A titanium post, or artificial "root," is implanted into your jaw bone and given time to fuse together to create sturdy support. Once it is secure, an abutment is added to the post as a means of holding the new tooth (a dental crown) in place. Dental implants look and act like a real tooth, blending in well with the teeth around it. They can be used to replace one single tooth or multiple teeth:
Implant-supported bridge
Implant-supported dentures
Full arch with 4 implants
Dental professionals of all types agree that dental implants are the gold standard in tooth replacement.
Benefits of Dental Implants
Dental implants are used for cosmetic purposes to restore smiles, but their benefits don't end there. Dental implants:
Are sturdy enough to prevent bone loss
Can improve confidence
Will not be subjected to dental issues
Last for a long time
Are easy to care for and maintain
Restore normal bite force
Will keep teeth from shifting
Unless you tell someone you have a dental implant, no one will ever know.
Learn More about the Benefits of Dental Implants
Are You a Good Candidate for Implants?
So, how do you know if you are a good candidate for dental implants? Aside from having a missing tooth or going through an extraction procedure, your dentist will look for a few key factors:
A high level of overall oral health
Excellent oral hygiene habits
No signs of periodontal disease
Free from underlying medical conditions
Non-smoker
The entire process of getting dental implants can take a few months - or longer - to reach completion. If the bone requires some extra support and bone grafting is necessary, that can cause further delays. As a result, the right candidate has to have patience.
Why Choose Truth and Laughter Dentistry?
At Truth & Laughter Dentistry, we take advantage of advancements in dentistry that can lead to amazing outcomes for our patients. Dental implants are one of those things. Dr. Muzaffar is highly-skilled and experienced in creating an artificial tooth that will last a lifetime. We use the most advanced technology to ensure that the implant is perfectly placed and aligned so that it will function as beautifully as it looks.
Ready to transform your smile? We are here for you.
FAQs
Are there any disadvantages to dental implants?
Dental implants don't have any real disadvantages as a treatment. They are known as the best option for artificial tooth replacement. And, because of this, they tend to be quite high in cost - which may be viewed by some as a disadvantage.
Longer than traditional implants, the Zygoma dental implant bypasses the jawbone and attaches the implant directly in the cheekbone, expediting both placement of the dental implant placement and the final restoration.
Are dental implants worth the cost?
Absolutely. Dental implants provide many benefits and they are long-lasting. Choosing alternative options may offer a solution at a reduced cost, but it would only be a temporary solution.
How long do dental implants last?
The titanium implant itself can last you a lifetime. However, the crown (the artificial tooth portion) will need to be replaced every 10-15 years due to wear and tear. If cared for properly, it may last even longer.
To learn more or to schedule an appointment, call
212-751-6428
.